CHILI LIME CAULIFLOWER CRUMBS
Regular price
$8.99
$0.00
Ai-yi-yi! Spicy, tangy and ready to crunch-up your favorite spicy recipes! These oven-ready crunchies are made with cauliflower. This product comes as a 6-pack or a 12-pack, so you get lots of delicious bags of crumbs shipped right to your door! Now available in the gourmet section of the checkout aisle in HomeGoods near you!
🥖 CAULIFLOWER CRUMBS:
Dare to Be Different Cauliflower Crumbs are made from veggies, so you can enjoy your crunchy favorites gluten free!
🥖 GOOD FOOD:
Our lower-carb, keto friendly crumbs are made with simple ingredients to be gluten free, grain-free, and certified kosher!
🥖 BETTER FOR YOU:
Keto and paleo friendly, using cauliflower instead of grain gives you added fiber, antioxidants, and key vitamins
SEE NUTRITION + INGREDIENTS
NO FUNNY BUSINESS
We're committed to using the best ingredients possible so you can feel good about eating our products. Frozen foods can have lots of icky additives but we steer clear of them all!
NO

Sugars

NO

Preservatives

NO

Gums

NO

Phosphates
PREPARED FOR YOU BY
PERSONAL CHEF ROBIN JEMAL
What started as a cookbook and catering gig turned into a large scale frozen product business, virtually overnight. Robin Jemal first turned her Dare to Be Different cookbook into a catering business and now sells her frozen products in over 200 stores. Her recipes have been tried and tested for over 10 years.
OUR STORY
MINIMALLY PROCESSED
SIMPLE INGREDIENTS
We try to process our meals as little as possible. The only processing we do is making sure our
favourite meals are safe to eat like boiling the cauliflower.
Cauliflower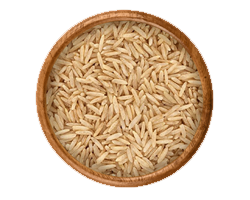 Brown Rice
Flaxseed
Salt
Spices
SEE NUTRITION + INGREDIENTS