BRUSSELS SPROUT PIZZA
Regular price
$39.99
$0.00
Tasty and grain-free Brussels sprout pizza with a cauliflower crust. This product comes as a 6-pack or a 12-pack, so you get plenty of delicious pizzas shipped right to your door! 
🍕 DELICIOUS FLAVOR:
Tasty twist on the vegetable pizza with a cauliflower rice crust topped with Brussel sprouts- an excellent source of Vitamin C and Vitamin K
🍕GUILT FREE PIZZA:
Dare to Be Different Cauliflower Pizza has 2 net carb sand is naturally gluten-free!
🍕GOOD FOOD:
Our low-carb, keto friendly pizzas are made with simple ingredients to be gluten free, grain-free, and certified kosher!
🍕BETTER FOR YOU:
Besides being keto and paleo friendly, using cauliflower instead of grain gives you added fiber, antioxidants, and key vitamins
🍕ARRIVES FRESH:
Product is shipped in insulated packaging with cooling packs- may arrive defrosted. Designed to be refrozen or refrigerated when it arrives to your home.
SEE NUTRITION + INGREDIENTS

Not all cauliflower pizzas are made equally. See how we stand up to the leading brands.
PREPARED FOR YOU BY
PERSONAL CHEF ROBIN JEMAL
What started as a cookbook and catering gig turned into a large scale frozen product business, virtually overnight. Robin Jemal first turned her Dare to Be Different cookbook into a catering business and now sells her frozen products in over 200 stores. Her recipes have been tried and tested for over 10 years.
OUR STORY
MINIMALLY PROCESSED
SIMPLE INGREDIENTS
We try to process our meals as little as possible. The only processing we do is making sure our
favourite meals are safe to eat like boiling the cauliflower.
Cauliflower
Egg
Mozzarella Cheese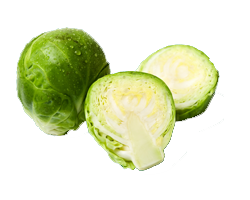 Brussels Sprout
Lemon
Olive Oil
SEE NUTRITION + INGREDIENTS